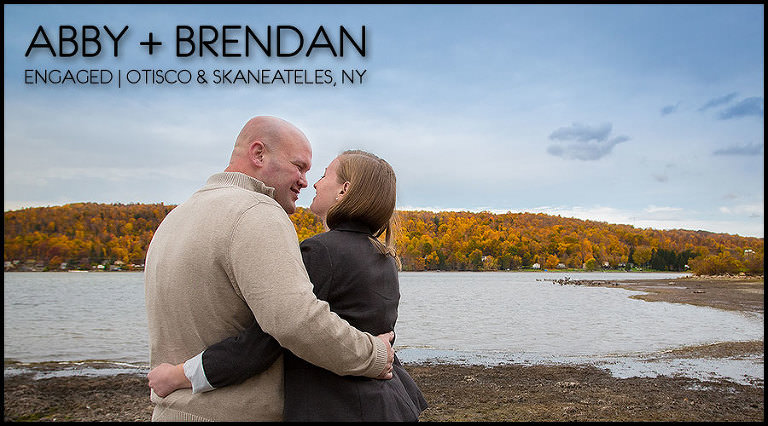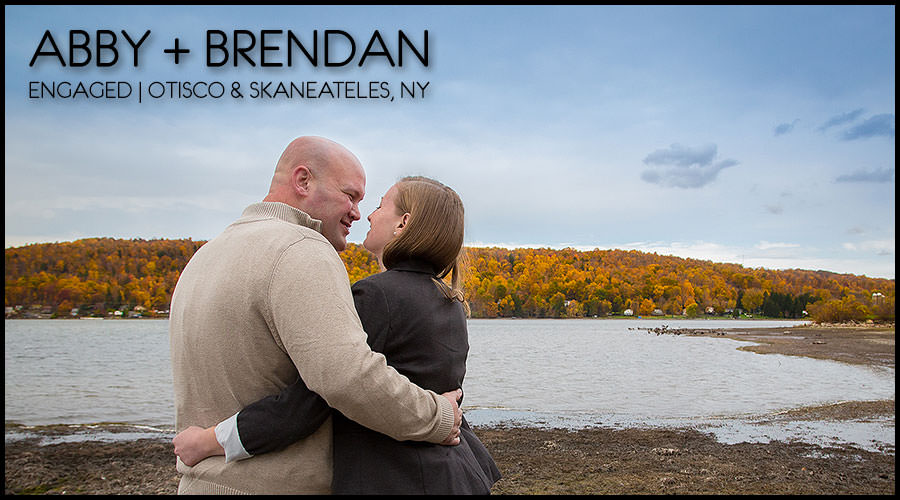 It was a perfect day when we met up with Johnny to celebrate Abby and Brendan's engagement, with a portrait session.  Johnny was very excited to get the session underway, and decided that to get things going he would start with a quick dip in the water at the beautiful Otisco Lake, in the town of Marietta. While he scampered around to check things out, we took some shots of the couple by the water, with the backdrop of autumn's colorful foliage. The Otisco Lake Park provided us with some beautiful trees for the couple to get some fantastic portraits!  Johnny's nearby "singing" kept Abby and Brendan in good spirits as we snapped away.
After a while, we took the short drive to visit the Charlie Major Nature Trail, in the quaint town of Skaneateles.  A rustic bridge at the entrance of the trail was a great place to get some more shots of Abby and Brendan. They were naturals, and at times, I think they forgot we were even there. Poor Johnny, waiting in the truck was a little less patient. We heard him calling for his owners and decided to let him join us for a few more portraits. He rarely let them out of his sight so he was happy to be back with them. As pet owners ourselves, we understand the bond between animals and their people. And also how they can be so spontaneous! But Colleen was nothing less than surprised when Johnny jumped up on her and completely covered her entire face with his big wet tongue! Greg thought it was so funny, and laughed at Colleen's slobbery face. As though on cue, Johnny went over to Greg and gave him the same love that he gave to Colleen. Thank you, Johnny, your affections were appreciated! We'll take that as a sign that he approved of our work.
As we continued on the path of the nature trail, we approached a small out-building. On the back side of the building was some graffiti we thought was too funny to pass up for Abby and Brendan. The end is near? Or is the end here? Judging by the way Abby and Brendan bonded on our shoot, we don't think there's any end to that in sight. The falls on the trail were neatly tucked away, for us to capture an intimate moment of the two love birds as they enjoyed the peaceful sounds of the waterfall.
We couldn't have asked for a better day for this adorable couple, and we were very happy to get to meet them, and capture their love in the images of their session. Bringing Johnny along was a great idea, and he definitely was an important part of the day. Thank you, Abby and Brendan, for allowing us such a fun opportunity; we really had a lot of fun with the three of you! Congratulations on your engagement, and we wish you all the best as you plan your wedding in the coming months!
Le gach dea-ghuí,
(With all good wishes)
Colleen & Greg