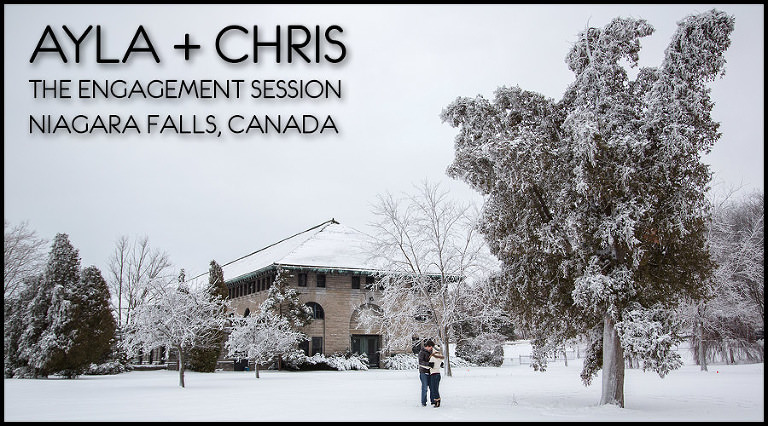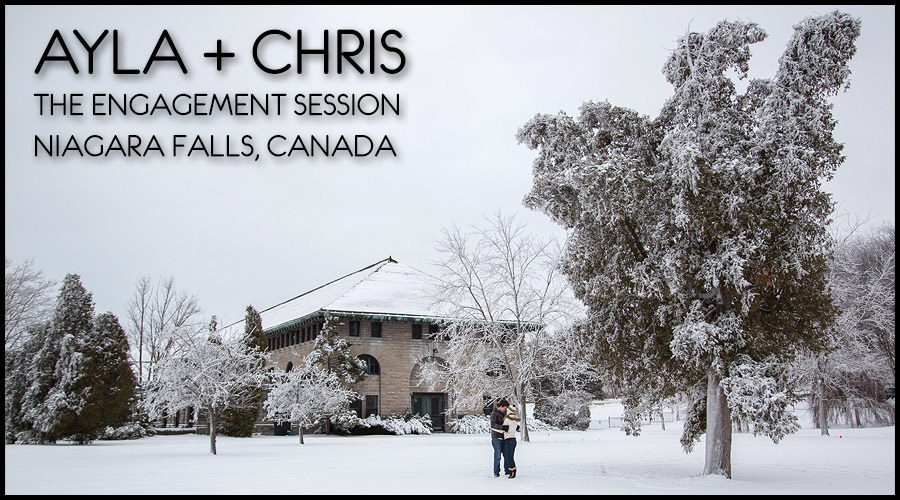 What an adventure we had with Ayla and Christopher, the day we met for their E-Session! We LOVE to travel around, doing what we do, and have made trips out of state for sessions before, but this was the first time we ventured outside the country with a client! Our initial plan was to meet up on the American side of Niagara Falls at Three Sisters Islands, but some flooding made it impossible for us to do that. Instead, we decided that a trip to Niagara Falls in Canada was in order! But it was no surprise when the border patrol selected to do a search of our vehicle, since there is never a dull moment with us! After a short delay, we headed to Dufferin Islands Park, to get some snowy photos of this adorable twosome. They came prepared with a small sled to make for some really cute and fun pictures!
From there we ventured closer to the falls, where the mist created some fantastic ice on the bare tree branches. Definitely something you don't see every day! After a short break to thaw out, we got a bit closer to the falls. After sun sets, they illuminate the falls, and wow does it look so pretty in the winter! Christopher did a great job keeping Ayla warm, and smiling for their photos!
We really had a great time with these two, despite the cold and getting a little bit wet!  Thanks for letting us tag along with you for the day, Ayla and Christopher! Best of luck with the wedding planning over the next few months, and can't wait to have even more fun when it's warm and sunny!
Le gach dea-ghuí,
(With all good wishes)
Colleen & Greg