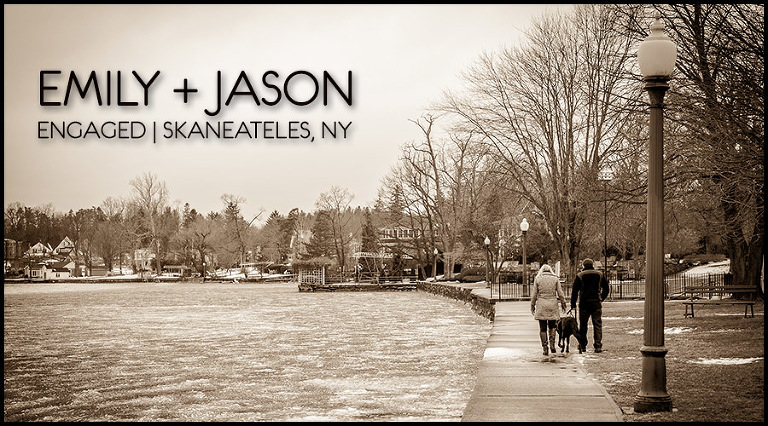 Meeting up for an E-session in winter… what would you expect here in Central New York? Snow? Yeah, forget it! Now once Spring officially hits however…. that's another blog post!
When we booked our session with Emily and Jason, we were prepared for snow. Gently put, Mother Nature has been very kind to us over the years, but when we would like a little snow to make pretty photos, we tend to fall a little bit on the short end of the stick. However, even the lack of snow didn't get these two love birds down.
We started off our afternoon together at Anyela's Vineyards in Skaneateles. When we arrived, Emily and Jason had the place to themselves, and were warming up by the beautiful fireplace with some wine. Nothing like a little something to relax yourself for a photo session! After a few photos inside, we ventured outside the building to the patio down by the wine cellar. A sweet place for photos, for sure! After grabbing a bottle of wine for us to take home (which was mighty tasty Riesling we might add), we headed back into the village to meet up with their four-legged pal, Grady! I don't know if he was happier to be reunited with his parents, or to have his picture taken. Either way, he was a fantastic subject while we took some photos in Clift Park and around the village of Skaneateles. We wrapped up our afternoon with a few shots at Thayer Park, near the garden donated in honor of Emily's grandmother, also named Emily.
We really had a great time with you all, and were happy to meet Grady as well! Can't wait for the big wedding day, and a little bit of sunshine and warm weather to really widen those smiles! Thank you, Emily and Jason, for allowing us the opportunity to wander around with you!
Le gach dea-ghuí,
(With all good wishes)
Colleen & Greg