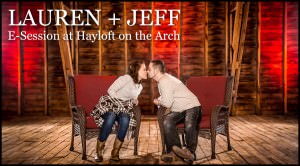 There's nothing like a little bit of love to warm you up during a Central New York Winter!
We were honored when we were asked to work with local photographer Jeff Anderton and his beautiful fiancée Lauren, for their wedding at the Hayloft on the Arch.  And even more excited when they requested a winter time E-Session right there at the the same venue.  Lauren and Jeff both brought lots of love and energy with them to the session, and we enjoyed getting some really lovely shots of them inside the barn. After taking a few shots of his own, Jeff brought along his guitar and played some beautiful music for his beloved, while she listened intently atop the rustic bar! How cute are they? With a little help from lighting specialist Carl Naples, of DJ by Design, we were able to create a beautiful backdrop for some of their indoor portraits.
After a break, and a yummy dinner at the Turning Stone, we came back for a night shot outside the barn. As beautiful as it is in winter with a nice coating of snow across the grounds, we are really looking forward to seeing it decorated for them in the fall, with the beautiful bride and groom and all of their friends and family! Can't wait for the wedding! Thank you, Jeff + Lauren, for coming out to play with us in the freezing cold, joining us for dinner, and being such good sports -we had a blast!
Le gach dea-ghuí,
(With all good wishes)
Colleen & Greg