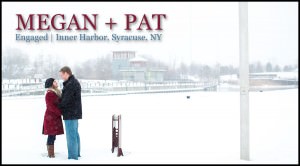 Now, here are a couple of troupers for you. Not only did these two bundle up for one of the snowiest and coldest days and places for an E-session, but they also missed an SU basketball game just to come out and play with us!
Many folks have a little (or a lot) of anxiety about having their photos taken. Not Megan and Pat! They were like naturals for the camera, despite the bitter cold. Our first stop was at the Inner Harbor in Syracuse, where in the summer there's a lot of activity and enjoyment. The day we met up with them for their session, we were pretty much the only crazy people there. And with good reason! But Mother Nature gave some pretty nice snowflakes for our trouble. We warmed up (okay not really) with some photos by the bridge, until some snow throwing broke out. The snow was not good for packing, and it was quite evident that Pat was not a huge fan of the gesture. No worries, Megan got her fair share of some snow in the face, too. It was all in good fun, and after Megan managed to clean Pat up, we headed over to the old loading building for a few more photos of the love birds. By that time, we all needed a little warm-up, and headed out to Baldwinsville for some good hot chocolate and coffee while we waited for dark to come. Once we thawed out, we went to one of our favorite landmarks – the Baldwinsville bridge! After some fun shots by the river, we bid them farewell.
Thank you so much for being such a great couple, Megan and Pat! We had so much fun hanging out with you guys for the afternoon, and appreciate your willingness to come out on such a cold day! We look forward to meeting again, on a much warmer wedding day, and lots more photos with you two!
Le gach dea-ghuí,
(With all good wishes)
Colleen & Greg