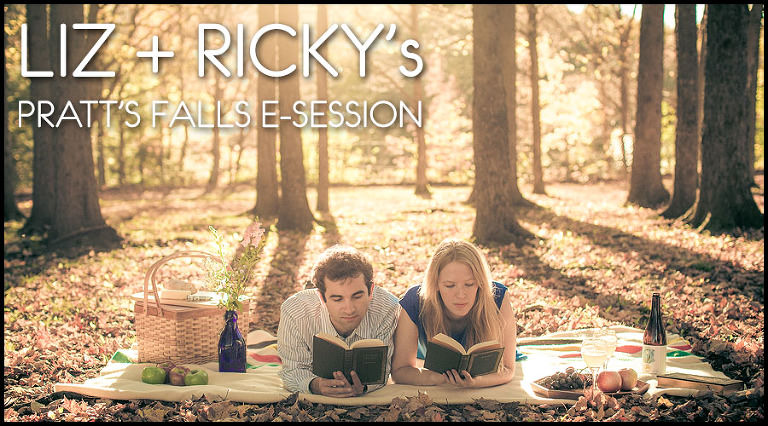 We could not have ordered up a more beautiful autumn day for Liz and Ricky's E session! The sun was out warming things up, and the fantastic colors of the foliage made for a perfect back drop of their photos. We started our session at one of the nicest parks in our area for Fall photos – Pratt's Falls County Park in Manlius.
It was actually almost too quiet for such a fantastic day, until we got down to the falls. Once we were there for a couple of minutes, it seemed everyone had followed us! We didn't have to wait too long for an opening, however. We took a few shots down by the falls, and on the magnificent steps littered with crispy leaves, before we headed back up to the picnic area. There, Liz and Ricky set up a romantic picnic, where they shared a couple glasses of craft beer, and some snacks, while the caught up on some reading.
Before we ended our session, Liz's parents invited us over for a few more pictures in their yard, complete with their four-legged friend. We really had such a great time with Liz and Ricky, and we were sad the afternoon had to end, but it was especially nice getting to capture them watching the golden autumn sun as it went down over the rolling hills. Thank you so much, both of you, for tagging along with us! We can't wait to be there for the magic on your wedding day, next year!
Le gach dea-ghuí,
(With all good wishes)
Colleen & Greg