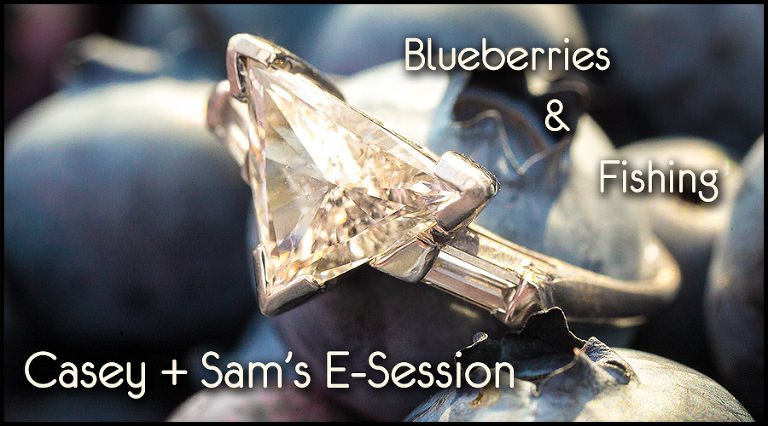 We were almost TOO excited to meet up with Casey and Sam for their recent E-session, in Fort Plain, since we absolutely love when couples select a place where they can relax and be their natural selves. When they chose the homes of Casey's Grandparents and nearby Aunt and Uncle, we couldn't wait to spend the evening with them!
It was a gorgeous day when we arrived in the Mohawk Valley, and we knew we would have so many opportunities for great shots once we got there. We started out with some fantastic shots in the woods, by their sparkling pond out behind her Aunt and Uncle's home, and some quiet portraits by the fields.  We then went to her Grandparent's farm, where a few portraits in the barn and out by the tractor were a must! The couple also stopped to pick some blueberries together. They were ripened to perfection, and ready to be eaten!
While we waited for the sun to come down in the sky a bit, we shared pizza with Casey, Sam, and Casey's Grandparents, followed by a delicious bowl of vanilla ice cream topped with the fresh blueberries picked from their blueberry bushes out back. So yummy! After dinner and dessert, we enjoyed a breath-taking golden sunset by the pond. We finished up their session with a bit of fishing at the pond, where Sam was able to catch a friend that Sam and Casey were all too happy to pose with!
We really had such a wonderful time visiting with these two, and getting to meet some of their family before their big wedding day.  A big "thank you" from us both, for your hospitality, and allowing us to visit – it was such a pleasure! Casey and Sam, it was so fun and we cannot wait to see you again very soon for your wedding day!
Le gach dea-ghuí,
(With all good wishes)
Colleen & Greg