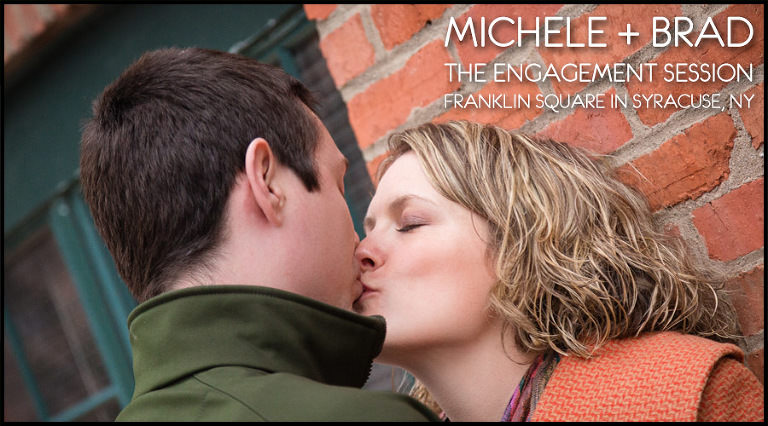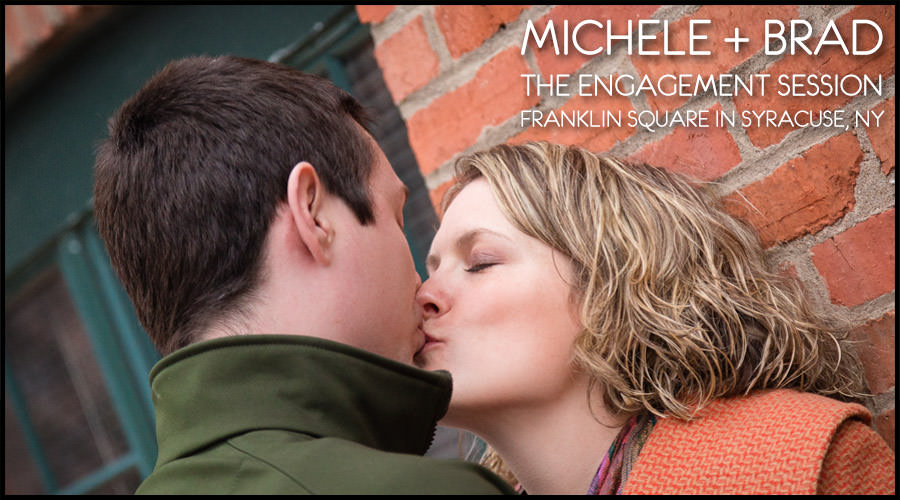 Our day with Michele and Brad was well thought out, and planned out for their engagement session… except for one thing. NO SNOW! As frequent winners of the Golden Snowball, when you plan for a winter e-session in Central New York, and in the month of January, there's little doubt that there will be no snow, right? No one would expect it to be 50 degrees with a bare ground and only a few small mounds of snow here and there. Well, that's certainly what we got! Thankfully, we had enough ideas planned out that the lack of snow and warm temperatures were really no burden for our session. In fact, I bet it almost made it better!
We started out with a few shots in Franklin Square Park by the fountain, to warm the couple up to having us stick our cameras in their faces…ever so gently of course! A couple of cups of hot coffee kept them smiling, and made for some great photos. We're not sure, but we think Colleen may have met her match with the couple's love for coffee! Anyone who's ever met her knows that if she's not seen with a cup of coffee actually in her hand, it's usually not far away!  A chat with Michele meant to be about their photo session, quickly turned into a 30 minute chat about coffee and coffee mugs! From that though, sprung some great ideas on how to incorporate coffee into their session. Sadly, since it was so warm and lacking of snow, some of those ideas didn't come to fruition, but maybe someday! After wandering around Franklin Square for a few shots, we stopped in to Freedom of Espresso to get some more shots of Michele and Brad while they sipped some more of that "elixir of the Gods" (as Colleen fondly calls it). Some really fun photos came out of there, and we really would like to give a formal "Thank You" to the Freedom of Espresso staff, for allowing us to come in and really make their e-session super special!
What a very fun day we had, guys! Even without the snow, your smiles, and the coffee made for excellent photos! We really look forward to the big day, and getting to see how we can incorporate coffee into your wedding pictures!
Le gach dea-ghuí,
(With all good wishes)
Colleen & Greg