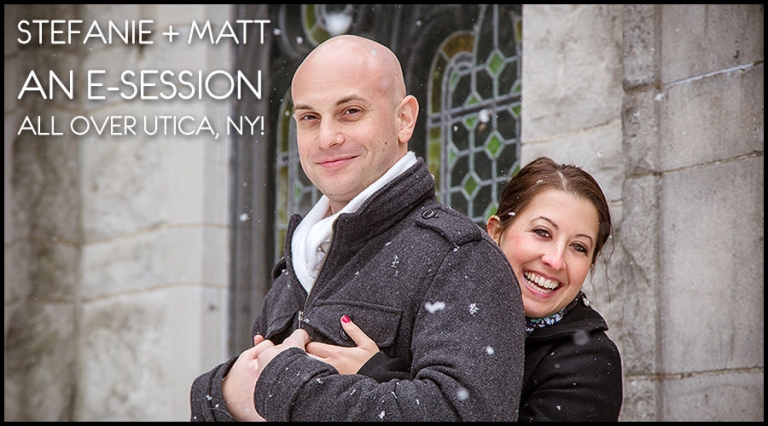 The past few months have really been pretty great, since we have had so many couples up for cold weather E sessions! Most folks think of Upstate New York as having only 3 good months for photos! So untrue! Weather is a part of our everyday lives, so why not make it part of your photo session?
When we set up with Stefanie and Matt for their March engagement portraits, we knew that we had to expect whatever Mother Nature decided to dish out that day. Since she's been a bit unstable lately, we were ready for just about anything! March is a very unpredictable month for weather. Last year we had 80 degree temperatures near the end of the month, and this year? Not so much! BUT we finally got some pretty snowflakes for pictures this year!
We started out our adventure at the exquisite Union Station, in historic Utica, NY. All of its marble and wood indoors created a beautiful splendor for the backdrop of their love.  Awwww, I know…don't hate! They are too cute for words, and had no trouble at all warming up to our cameras, despite the temperatures outside. After a few shots there, we made the trek outside along the platform and tracks for some fun shots as the big flakes fell endlessly from the sky. Those of you who regularly read our blog will remember how Colleen stood a little close to the edge while a train came through, last time we visited. This time she kept her distance and watched as the train traveled in the background! Safety first!
From there, we went to the very impressive Utica Public Library! Much like the train station, the library is filled with classic elegance of vaulted ceilings, pillars, marble, and GLASS floors! Yes, glass! Of course there are a few books in there as well, in case you actually go there to do some reading. Stefanie and Matt pored over a few interesting books while we shot some candid images of their cuteness. Following the whimsical shoot at the library, we made one final stop…. at the Forest Hill Cemetery… dun, dun, dun! Not normally a first choice place to do portraits you say? Why not? Utica is a fabulous city for not only history, but architecture that is simply dazzling. As photographers, and artists, we learn a lot in school about different styles of Art History, and Utica has plenty of examples of that! The Forest Hill Cemetery welcomes you at the front wrought iron gate with a fantastic display of Gothic architecture in its impressive stone archway. As the big fluffy flakes made their way to the ground, we took a few shots of Stefanie and Matt at this unique structure.
We really had a lot of fun exploring the Utica area, and some of its beautiful historic landmarks that day.
Thank you so much, Stefanie and Matt, for such a fun adventure, we can't wait for an equally exciting wedding day that you have planned!
Le gach dea-ghuí,
(With all good wishes)
Colleen & Greg