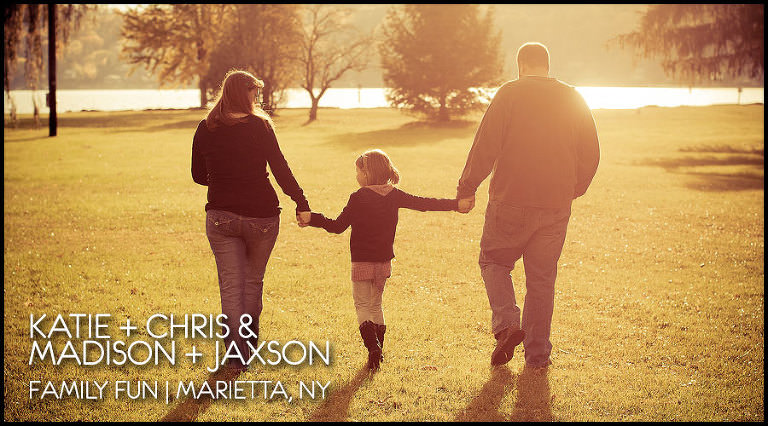 We met up with Chris, Katie and Madison on such a gorgeous autumn afternoon, to take some portraits of their cute little growing family. A new member of the family, Jaxson, is expected to arrive on New Year's Eve, so there wasn't much time left to get some good photos before the infamous Central New York weather set in!
We met up first at Tim's Pumpkin Patch in Marietta, NY. We were excited to get to see Madison pick out her pumpkins, and to snap a few photos of the three of them enjoying the pumpkin farm. With lots of little kids running around in the barn straw maze, Colleen decided to go in and scout it out for good photo spots. When, what to her wondering eyes should appear? Not Santa or some reindeer, but the world's creepiest little girl on a swing! And she was singing… Colleen didn't hang around there too long, but Madison was excited to see the freakish Halloween decoration, so we went back in to snap a photo. The best part was – all the children running around in the straw maze thought nothing of it, but the parents seemed to think it was pretty darn creepy!
We wandered around the farm for a bit before Madison started to feel a little cranky, so we decided to go pick out pumpkins. After everyone, including Jaxson, got their pumpkins, we took a spin through the animal barn with Madison. Inside was a 1000 pound pig, cute little baby goats and some bunnies. Maddie didn't mind spending a few minutes petting the animals, but afterward we broke for a bit to sample some of the tasty apple fritters that were made fresh at Tim's. They have the official "Solas Studios seal of approval"!
After our snack, we ventured down to Otisco Lake Park to decorate the pumpkins and get a few quiet portraits of the family. A little bit of wind and rain didn't dampen Chris and Katie's spirits, but Moodison (as named by her mommy) was having NONE OF IT. After some misty precipitation and a couple of temper tantrums from Maddie and Chris, (mostly Chris) the sun returned, the wind died down, and we got some really fantastic golden sunlit photos of the family. I guess it's true what they say… good things come to those who wait! And as the sun did finally make its appearance for beautiful portraits, soon Jaxson will be doing just that! We really can't wait for him to make his way into the world, so we can play with him too!
Thank you, Katie, Chris and Moodison for going on a little adventure with us! We had a lot of fun! Can't wait for next year when Jaxson will be here to hold his own pumpkin!
Le gach dea-ghuí,
(With all good wishes)
Colleen & Greg