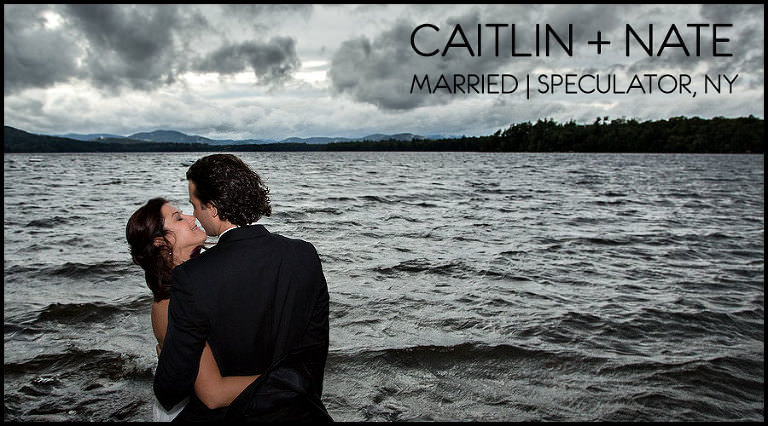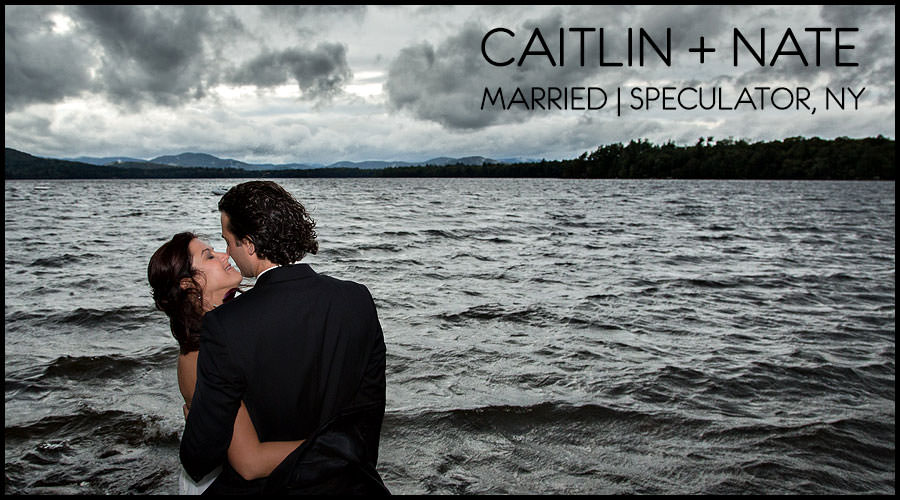 Caitlin and Nate's big day was one we were especially looking forward to this year! Their selection of an Adirondack venue for their wedding was so full of potential, that we could hardly wait to see what it looked like, decorated with love! What a fantastic place to have a wedding, nestled in the quiet woods, using the natural beauty as your backdrop! We met up with the couple in June, for their E Session, not far from where they exchanged vows in the town of Speculator, NY. If you haven't already, see their Engagement Photos here.
Their special day began with the girls getting ready at the Lake Pleasant Lodge, overlooking the spectacular Lake Pleasant.  The gentlemen got ready at the groom's parents' beautiful log cabin home, just across the lake. As the ladies got the royal treatment of hair and makeup, we watched out the window at the dramatic sky, as threat of a tornado continued to worry many folks throughout the morning. Not the Dads, though! They were too busy ironing to worry! Greg and Colleen, however, never spent a moment worrying about Mother Nature.
Before long it was time to shuffle off to the ceremony location, at the woodsy Camp Fowler tucked away in the woods between the Sacandaga Lake and Lake Pleasant. Having taken a small tour of the ceremony spot and the impressive Fenimore Hall back in June, we were nothing less than amazed at the fantastic job that Caitlin and Nate, along with their team, did at decorating for their celebration! The wooded path they used as their aisle was elegantly embellished with mason jars filled with a colorful spray of fall blooms. The jars, the bouquets, boutonnieres, corsages, and centerpieces were all lovingly, hand-assembled by the groom's aunts. It was fit for a woodland fairy-tale prince and princess!
A lake-side ceremony took place under a beautiful birch wood arbor, made by the groom and family.   They exchanged vows as the dark clouds rolled in, and Mother Nature gave her seal of approval with a thunder clap, just as Cait and Nate said their "I do's". She was kind enough to allow us a few minutes to snap some formal photos of the family and bridal party, before the "monsoon" hit! We huddled under the covered porch as the storm passed through, and finished up with some intimate portraits with the couple alone. The reception followed at the Fenimore Hall, where the couple danced their first dance to a song recorded and written by the groom himself, for his new bride. Listen to the song here:
[wpaudio url="https://solasstudios.com/wp-content/uploads/2012/09/My-Melody-1_1.mp3" text="'My Melody' performed by Nathan Eckhoff" dl="0"]
A delicious dinner was served and soon after the guests had no problem getting out of their seats to dance the night away. A great variety of live music was provided by the very talented gentlemen of party band, The One Night Stands. After the storm passed, we sneaked back outside with Cait and Nate to get some great photos by the lake. Despite the earlier torrential downpour, and tornado-like winds, these two never let it get them down. No rain could have dampened their spirits, or ruined the day for them, it only added to the beginning of their adventure together as husband and wife.
Caitlin and Nate, it was such a pleasure getting to work with you this year. We still laugh about how nervous you both felt about having your pictures taken, and how natural you really were in front of the camera. You love for each other shines so brightly, and shows in every image. Thank you for choosing us to document that unique bond that you have, and capturing those special moments on your wedding day. We wish you many years of love, and happiness as you begin your journey of life, side by side.
Le gach dea-ghuí,
(With all good wishes)
Colleen & Greg