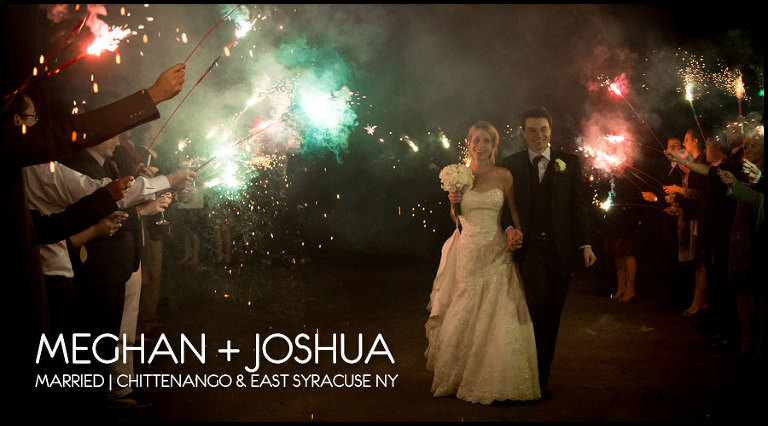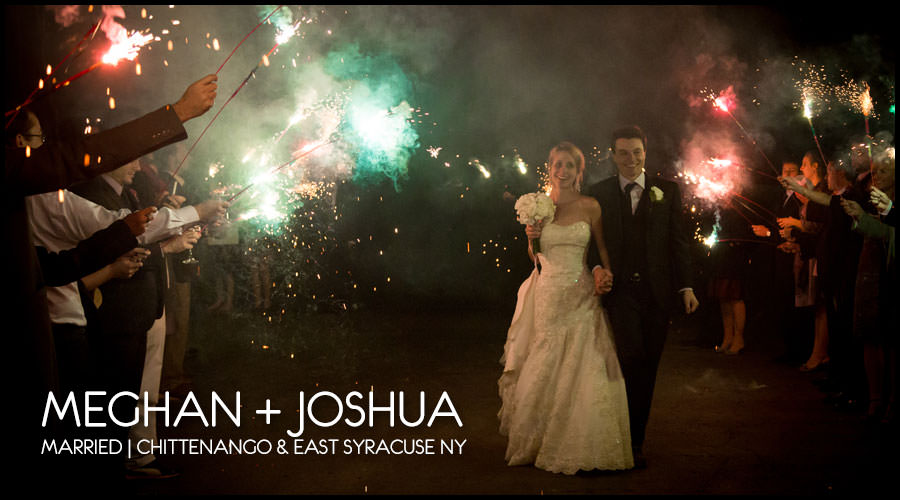 Our Great Adventure began with Meghan and Josh back in April, when we traveled down to Washington D.C, to shoot their E-Session. We enjoyed a fantastic weekend wandering around the National Mall, The Botanic Gardens, and The Jefferson Memorial, and chatting about plans for their big day. If you haven't already, see their Engagement Portraits here.
After having lots of time to bond with Meghan and Josh, we were very excited about being a part of their wedding day. The very talented Justin Mayer of Mayer Video accompanied us for the day, capturing the special moments and events on video. Colleen began with Meghan getting ready with her girls at her parents' beautiful home, and Greg began with Josh getting ready with his diverse group of grooms-people at the popular Craftsman Inn, both in Fayetteville. A stunning Meghan and her girls rode to the First Presbyterian Church in Chittenango in style, aboard a limo bus, where a patient Josh waited with his attendants. Before the ceremony began, Meghan's Grandmother made a special visit to see the bride, as her tearful granddaughters welcomed her, and were thankful for her being able to make their joyous event. Shortly after, Josh and Meghan took a few minutes to have some photos taken as they each stood, unable to see each other, on either side of the church entrance door. They held hands and prepared for the ceremony to begin with blown kisses through the door.
The entrance music, handpicked by the couple and performed by special friends began as guests readied for their first look at the bride. The golden autumn sun shone through the windows as Meghan made her way to the sanctuary to meet her groom. After an entrance fit for royalty, a special ceremony, complete with readings from those close to the couple, was performed by Reverend Dennis Doerr and Pastor Linda Forsberg. Meghan and Josh lovingly exchanged vows, and made the start of their Great Adventure as husband and wife, official.
After family portraits at the church, the limo bus took the bridal party to The Links at Erie Village, where we rode along in golf carts to get some fun portraits on the course. Following the portraits, a patient and chilly bridal party entered Traditions at the Links, to thaw out and get ready for cocktail hour. Delicious hor dourves and cocktails were served as the couple received their many guests, and greeted them with many hugs. Their spectacular dinner was served before the night full of dancing began. An entertaining selection of music and lighting was provided by Joe Quatela of Q Music Productions of Rochester. Before the night ended, Meghan and Josh selected a special send-off with their guests lighting their way with sparklers.
Thank you so much, Josh and Meghan for inviting us to be a part of this grand adventure that you have begun. It was a fantastic day, and though it went by so fast, we hope that your photos will keep your memories of the day fresh in your mind, so that you may relive them again, and again, for many years to come. We wish you many safe and happy travels, and hope that someday they bring you back around to meet up with us again!
Le gach dea-ghuí,
(With all good wishes)
Colleen & Greg