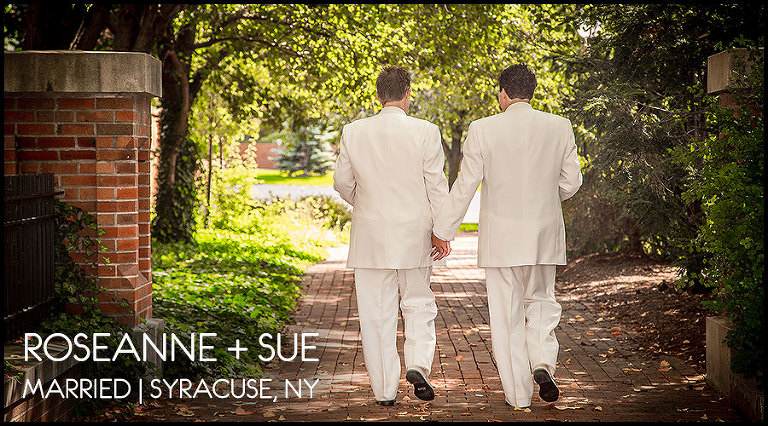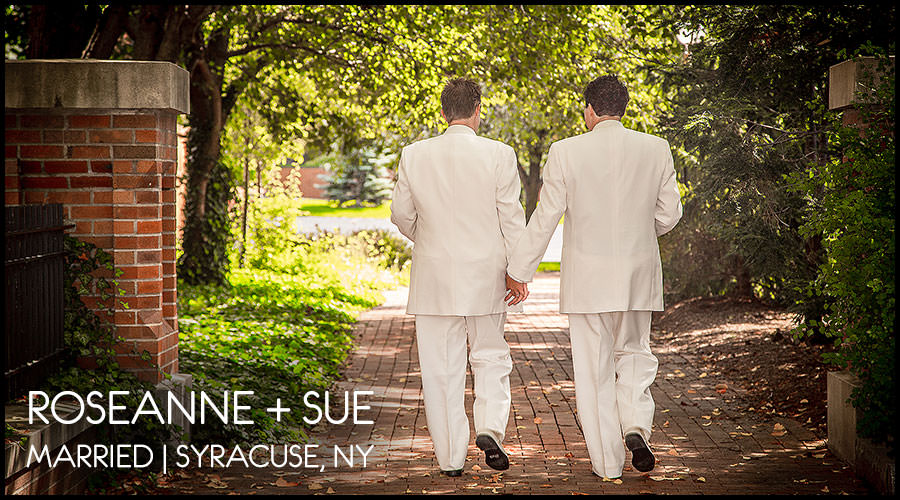 We definitely knew when we met Sue and Roseanne that their wedding day was going to be a very special one!
When they told us that they would be having their wedding at the Rosamond Gifford Zoo at Burnet Park, we knew it couldn't be any less than unique, fun-filled day! That morning, they started with preparations at the Staybridge Suites in Liverpool, in a relaxed and informal fashion. While the girls readied for their big day, we took some detail shots of their tuxedos, shoes, and other fun details. For their wedding day, they purchased a beautiful set of wooden hangers to hang their coordinating tuxes, and then gifted them to us for our couples to use. Thank you, girls, for being so thoughtful to give those to us!
After they completed their final touches, the ladies pinned boutonnières on their Dads and groomspeople, and gave corsages to the Moms, all provided along with the bouquets, by Jennifer Guidera-Eiffe. We then headed downstairs for a few photos in the lobby at Staybridge, before heading out to Franklin Square Park for their formal photos. The ladies had a fleet of 3 limos provided by Caz Limo, which included a limo bus, to escort their bridal party and family for the day. Though local meteorologists had threatened us with rain for the day, Mother Nature always has the last laugh. It was a fantastic autumn day with mild temperatures and plenty of sunshine to brighten spirits, and put everyone in a sunny mood for such a special event. We made our way over to the park, to first take some photos by the famous fountain. The bridal party, and their families, were good and kept things upbeat as we took photos around the park. While making our last stop over by the bridges, a beautiful butterfly paid Sue and Roseanne a visit, and stayed long enough to have its photo taken with them as well. After a champagne toast to kick off their celebration, we headed to Burnet Park for a walk around the zoo to see the animals.
Not long after, the ceremony followed, officiated by Eric Rodriguez, as a gorgeous golden sunlight shone through the trees. The ceremony began with the beautiful music of vocalist and musician Joe Altier, and a special entrance of bag piper Ray Leak, as the ladies walked down the aisle with their fathers. Sue and Roseanne exchanged vows and professed their love for one another, with over 250 guests as their witnesses. They are really remarkable people, so it was no shock to us that they had so many there to share in their special day. Roseanne and Sue performed a unity sand ceremony to commemorate their commitment to each other, and had a special memorial vase and candle at their "altar" honoring Roseanne's mom, who passed away 10 years ago. Following the ceremony, a cocktail hour was held on the veranda, where drinks, and tasty hor dourves were served, as the sun set.
The reception began with a Hollywood-esque entrance of the bridal party, and the newlyweds, complete with spotlights, amazing music and up-lighting provided by Premiere Disc Jockey Kevin Colangelo. A delicious meal was served compliments of the staff at the Rosamond Gifford Zoo, and the DELECTABLE array of cakes provided by one of our favorites – Biscotti Café. The night was filled with plenty of dancing and fun to be had by all! This was one hell of an energetic crowd, and Kevin kept them up on their feet (in between trips to the photo booth) right until the very end!
Roseanne and Sue, we can't thank you enough for selecting us to be your photographers. You truly are a one-of-a-kind couple, and it is clear that you two have an unbreakable bond.  We enjoyed getting to tag along with you and your loved ones throughout the day, and be part of such a great day. We wish nothing but the best for you, and hope that your love for each other will carry you through not just life's adventures, but the tough times too. Thank you so much, for all that you do for the community, and for being such awesome people.
 PS: Also, Sue, please remember us, and what a good job we did, should you ever have to pull us over. <3
Le gach dea-ghuí,
(With all good wishes)
Colleen & Greg