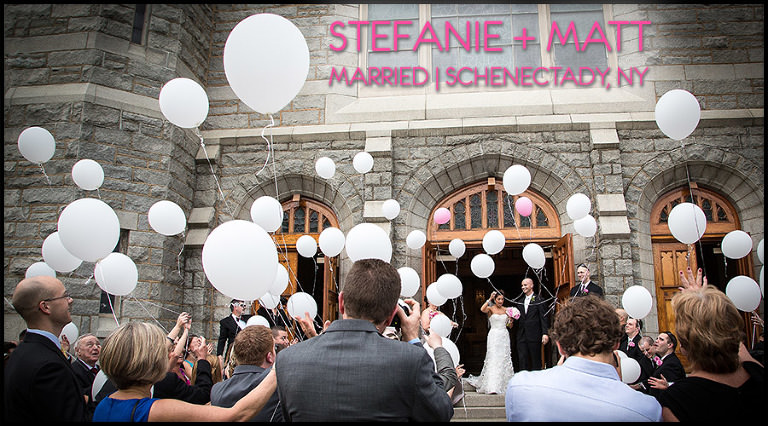 There's nothing better than getting to spend a little extra time with our clients. We call them clients, but more often than not, they feel more like friends after working with them for a year or more. Back in March, we spent the day with this adorable two-some, exploring some historic places and getting to know them, in Utica, NY. If you haven't had the pleasure of "meeting" them yet, you can do so here!
We were lucky enough to spend an evening and then a glorious day with Matt and Stefanie while they celebrated not only their love, but also their nuptials. Our first event of the 2013 wedding season began with a romantic candle-lit rehearsal dinner at the historic Van Dyck Restaurant and Lounge, nested in the beautiful Stockade District of Schenectady, New York.
The bride and groom honored their guests and attendants with a delicious buffet-style meal, surrounded by the elegant lighting of candles held by a collection of wine bottles. After the meal the proud fathers offered their heartfelt speeches, and the bride and groom passed out gifts to their loved ones as a thank you for their love and support.
The next day began with hair and makeup, followed by the final touches at the Hampton Inn. The guys casually got ready in their suite, while the ladies prepped for the big day in the suite directly above. Once the dresses were steamed and the ties were tied, the bride and groom were ready to make way to the exquisite St. Mary's of Waterford. As they exited the limo bus, they were greeted by the happy balloons waving outside the impressive stone church, where they would exchange vows presented by Reverend David Kelley. Their nuptials included a full Catholic Mass, and concluded with a releasing of  balloons into the sky. But before their balloon send –off, a special appearance was made by their dapper, four legged friend "Buddy" dressed in his top hat and tuxedo! Formal photos followed on the church steps, and later at the stunning grounds of Union College, in Schenectady.
A fabulously decked Key Hall at Proctors was where the delicious dinner and reception was held. Attention was paid to every detail, and the atmosphere was nothing short of fantastic. Aaron Topfer kept the guests dancing right until the end. Greg and Colleen shared the job of documenting the day and all of its fun, with Lauren and Jeremy of LaRose Media. Can't wait to see the trailer of such a heart-warming day!
Thank you so much, Stefanie and Matt, for selecting us to be the ones to share your day with you. We really enjoyed being there with you along with your families, and wish all the best for you two, for a long and happy life together!
Le gach dea-ghuí,
(With all good wishes)
Colleen & Greg