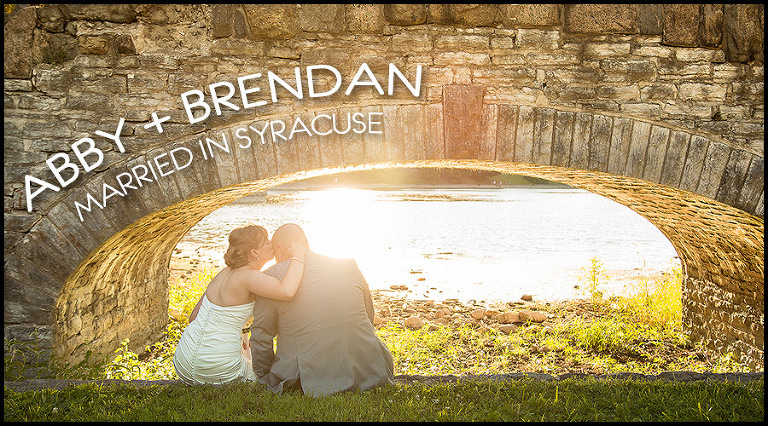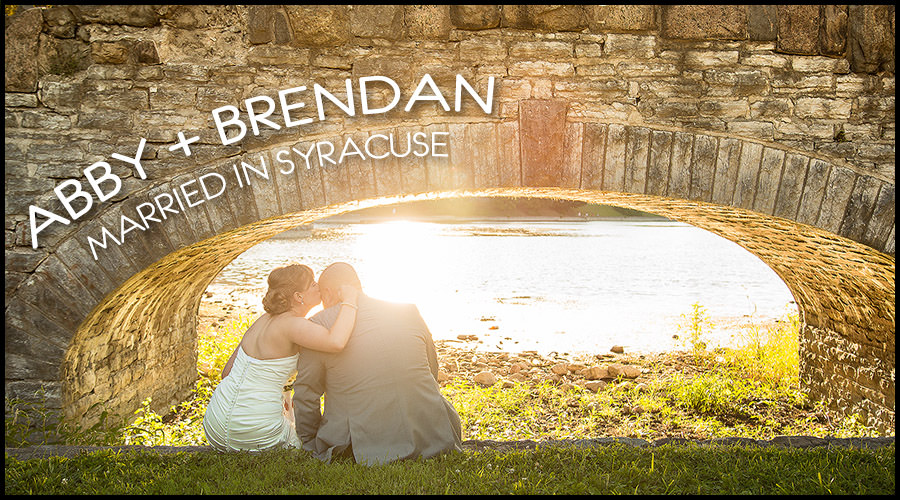 The weather could not have been more perfect on the day Abby and Brendan were married! A nice sunny day, but not too hot, or too cool! Our couples always seem to be so good at ordering great weather for their wedding days, and these two were no exception! Last fall, we had a very awesome time with these guys on their engagement session, complete with "Johnny", the couple's four legged friend. To revisit their session, visit our blog post here. Fast forward ten months to their August wedding…
When Colleen arrived to document the preparations for the bride and her girls, everyone was relaxed and excited at the same time. A bored "Johnny" waited out back on the picnic table, for his chance to get in on the celebration.  An already pretty Abby, slowly emerged into a stunning bride with the help of her makeup artist and hair stylist in the company of her mom and bridesmaids.
Meanwhile, Brendan and his gentlemen arrived with Greg in Armory Square, to kick off the celebration in style, at the Blue Tusk Pub. After a few drinks, it was time for Abby and Brendan to meet at the sanctuary in the Plymouth Congregational Church, where they would hear the sermon of Reverend Quinn Caldwell. After a beautiful service that included some laughs, some tears, and a lot of love, Abby and Brendan were joined together in matrimony.
After a few family portraits at the church, the couple and their bridal party rode happily to Upper Onondaga Park, where a very impatient "Johnny" waited to have his portrait taken with his parents. After the mini session with their little family, we took portraits of their fun bridal party, and then some romantic sunlit portraits of the couple alone. The sun reflecting off of Hiawatha Lake was just perfect! After photo time was over, it was time to party!
Off we went for a fantastic evening at Justin's Tuscan Grill! Cocktail hour on the patio was in full swing when the couple arrived, and an elegant, coral-lit ball room was waiting for the celebration to begin. A delectable sit-down dinner was served to the couple and their guests. Black Tie Entertainment provided their music and the photo booth for the evening. It didn't take long for the dance floor to fill up, and everyone danced the night away.
Abby and Brendan, it was such a beautiful day for you, but regrettably it went by so fast! We hope that your wedding photos will make it easy for you to relive your special day, for many years to come. We are so happy that you found us, and selected us to be there to celebrate with you both (and Johnny)!  We wish you lots of love and light, and hope your love grows more and more with each passing day!
Le gach dea-ghuí,
(With all good wishes)
Colleen & Greg