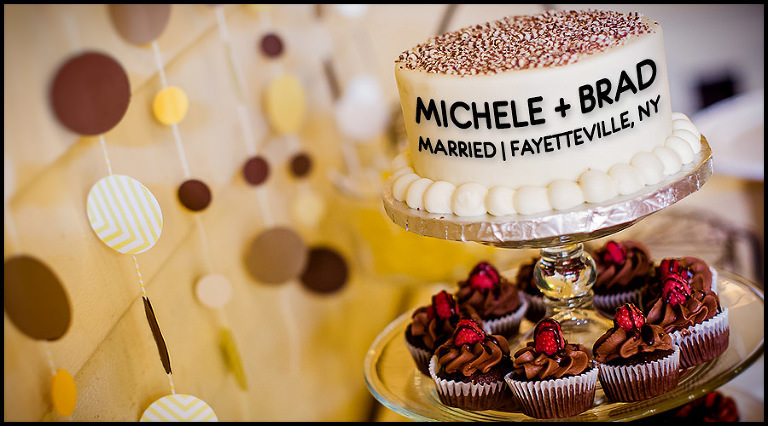 A beautiful day was carefully planned for the wedding of Michele and Brad, and it turned out just perfect! Our first adventure with this fun couple happened back in January, when we met for their E-Session in Franklin Park. Such a fun session, that ended with us at a coffee shop! Colleen will never be heard complaining about that! Revisit their session by clicking here.
With a shortage of snow, and mild temperatures for their engagement portraits, we knew we would be lucky on their wedding day as well! It was a warm summer day, and while there was some threat of rain, it stayed away for these two love birds. We started out with Michele at the Craftsman Inn, where she was accompanied by her Mom and Maid of Honor, Jessica. They helped her slip into the most perfect of wedding gowns, which was no doubt made especially for Michele! She looked absolutely stunning! Meanwhile, Greg met up with the Groom and his guys for a few candid photos at the Gorham Brothers Music, owned and operated by the Groom along with his two brothers. They enjoyed a few laughs and some goofy moments before heading to Pratt's Falls for the ceremony.
Michele and Jessica arrived to Pratt's Falls first, and patiently awaited the arrival of Brad and Best Man, Keith. Before long, her husband-to-be approached the big tree she waited behind, shielded by her yellow paper umbrella. The couple shared their first glimpse of each other dressed to become husband and wife. After a few happy tears, and a lot of kisses, the four-some posed for a few photos, and we ventured down to the beautiful falls. There we captured a few more photos, while they waited patiently for the moment to arrive where they would ascend to the ceremony site, nestled under some pretty trees. A modest crowd sat and waited for the processional, and a beautiful exchange of vows was presented by Reverend Ernest Morrow. As a sign of modern times, Reverend Morrow was the first for Colleen and Greg to be seen presenting the vows from his iPad!
After family portraits right at the park, the couple left in high-style, in a sleek, black, Dodge Charger, complete with hand-painted yellow and white cans dragging behind it. Off to the Craftsman Inn we went, to start their party! A beautiful reception was hand decorated by talented artist, Michele, and no detail was overlooked! A wonderful sit-down meal was served by the gracious staff at the Craftsman Inn. And nothing could have been better than the amazing dessert spread that included Tiramisu, beautiful cupcakes, and the TASTIEST blueberry and lemon tarts! No sweet-tooth was left unsatisfied!
A very sweet, endearing mother and son dance was followed by a little shake-up from the bride and her Dad. They sure do know how to boogie! Lots of great music was provided by Bob from Black Tie Entertainment, along with a photo booth to keep the guests entertained throughout the evening. What an awesome day it was! We are honored to have been part of the first steps of your journey into married life, Michele and Brad! Thank you for choosing us, and being such an awesome, laid back couple to work with. It was a blast! We wish you all the best of life's happy moments, and a lifetime of love and prosperity!
Le gach dea-ghuí,
(With all good wishes)
Colleen & Greg