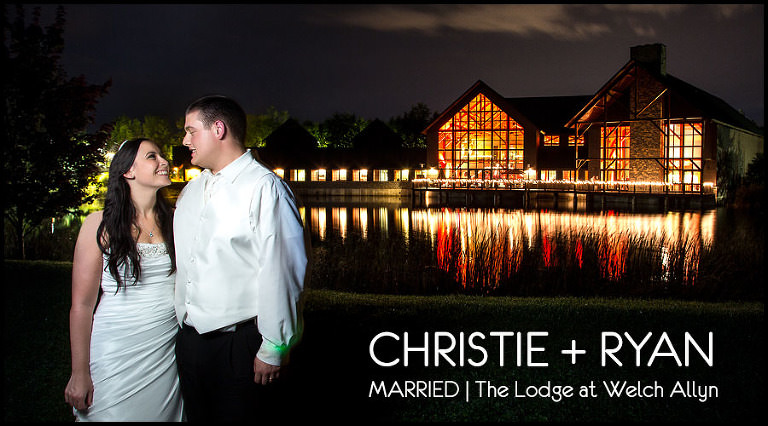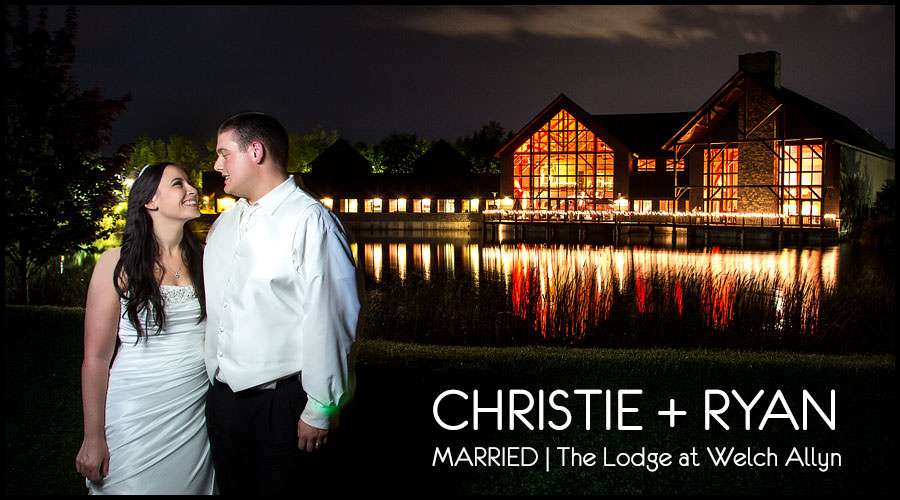 Ryan + Christie were without a doubt our "sweetest" couple this year! Owners of one of our absolute FAVORITE place to get chocolaty treats – Marcellus' very own Chocolate Pizza Company! (By the way, if you haven't sampled their chocolate before, we highly recommend that you do! The Peanut Butter Wings are our favorite!) Anyway, before this blog turns entirely into an advertisement for confections, let's get back to Christie + Ryan, the real sweethearts!
Their wedding day began with Christie and her girls at the Holiday Inn in Auburn, and Ryan and his gentlemen at the Chocolate Pizza Company in Marcellus. Both Christie and Ryan were laid back, and enjoyed some laughs with their attendants as they dressed for their wedding day.
Christie and the girls were driven in style by a beautiful limo bus to St. Francis Xavier Church, also nestled in the "sweet" little village of Marcellus. There they exchanged vows presented by Reverend Daniel Muscalino. Following their ceremony, they exited the church while guests blew bubbles in their honor. They boarded the limo bus, for the short ride down the street for a few formal pictures at the Chocolate Pizza Company with some special Chocolate Pizzas made especially for their wedding celebration. After the quick trip, we zoomed back over to the church for their family portraits. Mother Nature was so happy for the couple, her tears graced the day. So a "Plan B" was elected, and off to Hoopes Park in Auburn we went for the photos of the bridal party! During the formals session, the boys had had enough of the picture taking, and decided to break for a short game of football. They stayed nice and clean despite the drizzle, and the ladies didn't mind too much. The limo driver from S&S Limo, drove like a boss, and managed to get us out of the park, without having to walk too far, but a very wet Colleen and Greg didn't take too long to dry out. Off we went to start the party! Headed to The Lodge at Welch Allyn, we were excited for our debut wedding there, and were anxiously waiting to see the magic unfold!
A fabulous cocktail hour spread was laid out, and ready to begin when we arrived. But you couldn't get to the hors d'œuvre without passing by the fancy wedding cakes, so artfully created by Biscotti Café, and the many chocolate treats that Ryan and Christie provided their guests.  A tasteful sit-down dinner was served to the guests before the party got into full swing. Another great reception by Black Tie Entertainment, where the guests were kept dancing ALL night, with one exception…
 Christie and Ryan really wanted to thank their friends and family for all their love and support, and being there to share in their momentous day. After a brief speech, one single firework lit up the sky, followed by many more. They had opted to keep their little secret all to themselves (well mostly). It was a fantastic show put on by Young Explosives Corporation, even with a little rain; it didn't stop the love and happiness from showing on their faces.
 A special "thank you" to Joe Gibbons of Gibb Films, and Pamela Eberle of Pamela Beth Wedding Consulting, for sharing the ride along with us, it was our pleasure!
Christie and Ryan, it was such a pleasure getting to work with you and your families for such a fun day. Not even a little precipitation got you guys down, and that really says something. Over the years you will have lots of sunny days, but rainy days will be inevitable (especially in Syracuse).  If you always let the sun shine from within, like you did on your wedding day, you will have a blissful life together! Thank you so much for choosing us to be your photographers for such a once-in-a-lifetime event!
Best of luck to you both, Christie + Ryan, for many happy days ahead!
Le gach dea-ghuí,
(With all good wishes)
Colleen & Greg