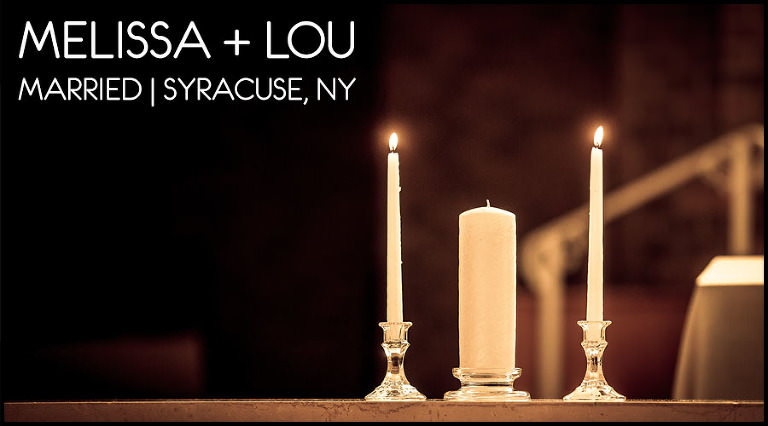 A couple of years back, we had the pleasure of working with a really awesome couple – Cindy and Kenny. We had such a great time working with them and their families, and were very happy when we were asked by Cindy's sister, Melissa, to be the photographers for her wedding to Lou.
The girls started their day with Colleen at the home of Cindy, where they got dressed and put on the finishing touches. Greg joined Lou when he started out with his guys at a friend's, and then made his way to his parents' home before heading off to the ceremony. The ladies rode by limo bus to Saint Daniels Church, where they would exchange vows presented by Monsignor Eugene Yennock. After a beautiful full Catholic mass, the families and the bridal party had their formal photos taken right within the church. After formal photos concluded, we headed off to start the party at the Sheraton Syracuse University Hotel! A cocktail hour complete with tasty appetizers, and fruity drinks kept the guests happy while they mingled, and waited for the moment when the bridal party would be announced. Following announcements, Monsignor Yennock blessed the meal, and the staff began serving a meal fit for kings and queens. Melissa and Lou's friends and family needed no invitation to start the party, following dinner. Whirlin' Disc provided the tunes to keep everyone on their feet and groovin' along right up until the end.
It was a beautiful day, from beginning to end, and we couldn't have been happier to have been a part of it all. It was great getting to celebrate with you Melissa and Lou, and we thank you for selecting us as your wedding photographers! We hope to get to be your personal paparazzi at the next one, without any more spills or dives!
Best of luck and love to you both, for many days and years to come!
Le gach dea-ghuí,
(With all good wishes)
Colleen & Greg