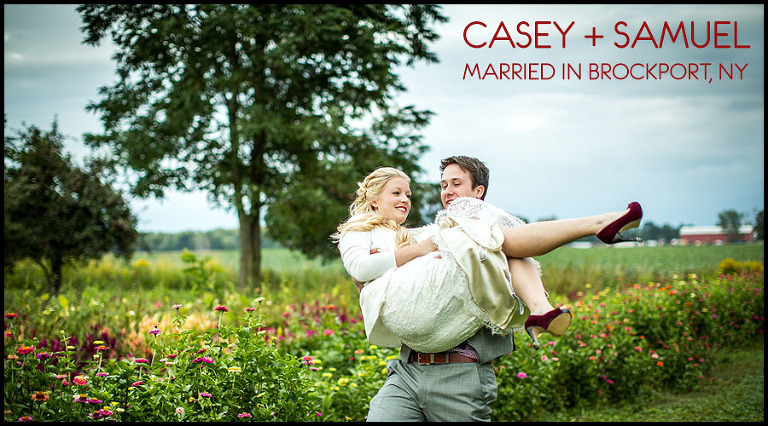 It was so obvious early on, that Casey and Samuel were going to be a blast to work with. And ironically, they are our second couple who are both Pharmacists. We can't even put into words how much fun it was getting to do their E-session, but we hope the pictures speak for themselves. If you have not seen them, you can view them here, and we recommend you do, since they were disgustingly adorable.
Such a light-hearted and fun couple could have nothing short of a perfect wedding day, and despite a little bit of rain showers, nothing dampened their love on their beautiful day. And the rain clouds knew better than to hang around for long, but left them with such a beautiful sky for the back drop of their portraits that evening. Casey and Sam selected one venue for their entire day. The White Farm Bed and Breakfast in Brockport is not known for hosting wedding events, but the couple and the owners really outdid themselves to make this place one of our favorites. With the help of their friends and family they decorated it to be one of the most romantic places you could imagine.
Casey and her girls readied in a beautiful vintage room, and the boys got ready in another room just down the hall. Outside the family set up the tables, with beautiful place settings, complete with table name cards, named after common pharmaceutical drugs. What a fun way to personalize their wedding tables! Christine Hunt of the White Farm, provided the flowers for the bouquets and tables, fresh from their amazing flower gardens.
The rain stopped, as if on command, when it came time for their ceremony, nestled right under the trees. A stunning Casey, in her ethereal wedding gown met her beau by the arbor where they exchanged vows presented by Pastor Mark Brown. The girls were dressed in elegant peach dresses, with burgundy sashes. The boys looked dapper in their burgundy gingham dress shirts, with matching burgundy ties, grey pants and vests, and brown suspenders to hold things up. A very handsome bridal party indeed!
After the vows were exchanged, and the symbolic hand-tying ceremony, the newlyweds and their bridal party joined us on the front porch of The White Farm House. They looked like something out of a fairy tale wedding album. Before we finished up though, an unfortunate "alien invasion" happened in the midst of our formal photo session. A frightened bridal party ran for their lives, though I think they were looking for any excuse to be finished with pictures, if you ask me.
As luck would have it, Greg speaks fluent "Alien" and was able to calmly talk them into relocating so that we could go back to celebrating, since everyone was famished.  Don't bother Googling the event in the news, we didn't report the disturbance, since the Bride and Groom didn't want any uninvited guests at their wedding. A gorgeous evening ensued after the excitement died down, complete with a very tasty dinner, served family-style. After dinner, despite a few little sprinkle showers here and there, these folks did not let it stop them for partying it up. A great time was had by all, and there is plenty of proof in their wedding photos.
Casey and Samuel, we are beyond grateful that we were the lucky photogs able to join you for your adventures over the last few months. We truly could not have asked for nicer clients! Thank you so much for your hospitality, and choosing us to be there along with you. We wish you both all best in your future endeavors, and a long and happy life to you both, with that ADORABLE Baloo skipping along beside you.
Le gach dea-ghuí,
(With all good wishes)
Colleen & Greg